Click on the pictures, some can be enlarged!
Not many people in Tbilisi know where Shavnabada is despite that one can see it from most places in town, one could say the evil spirits of Shavnabada breathe down the necks of its inhabitants without their knowing. It is one of the strangest places in and around the city, maybe it really is evil....
"Let's go to another cherch," said Merab when he drove up with Sophie in the car one late afternoon. Where to? He was evasive: "You'll see!" He crossed town and after the sulfur baths continued along the right Kura embankment. I noticed a road sign in Russian: to Ortachala - which I knew had been the district of prostitution of in pre-Soviet Tbilisi. After a couple of kilometers Merab turned up a side valley. A couple of destitute villages, a sinister looking Armenian church, the flank of a long bare hill with the tilted stele and unkempt mounds of a Moslem cemetery climbing its back - a sweeping view of town from the crest. At a distance stood outlined against the sky a dilapidated church and a tower, nothing of architectural interest, a weathered brick structure with a steep roof - it could have been a barn if next to it there wouldn't have been a gnarled oak with a bell hanging from one branch and a sacrificial stone altar.... And yes, of course, the defunct tower, in the bottom of which Cornelius discovered a messy room. A broken window, the door ajar, on a dirty, wine-stained table pieces of molded bread, a half-finished bottle, an encrusted plate, knives and forks... in the dark rear of the room a soiled, un-made bed. The place looked as if it's inhabitants had fled in the middle of breakfast that morning.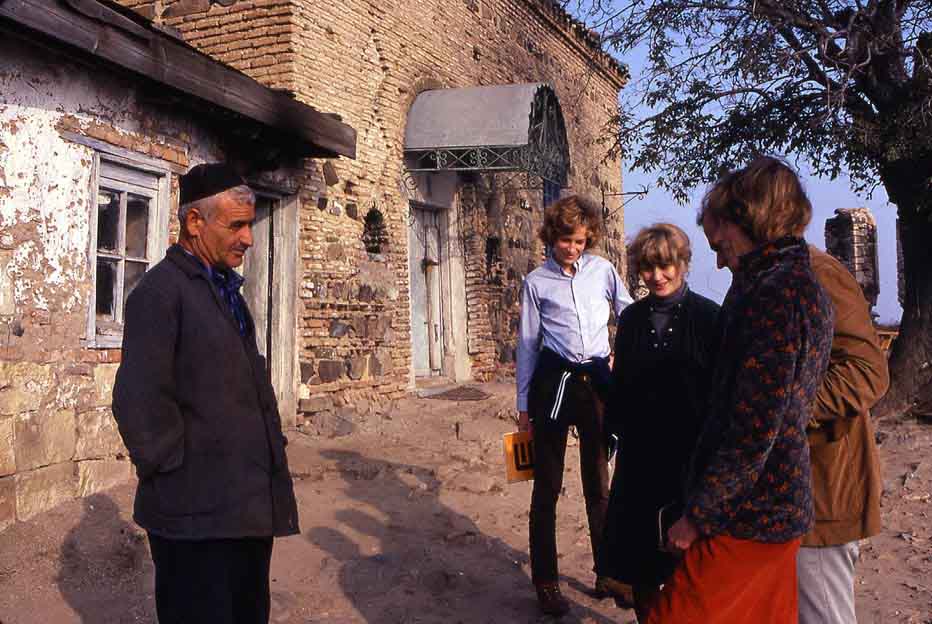 From somewhere the caretaker materialized. Merab asked questions Sophie translated, Cornelius holds his Georgian language notebook. Behind the care taker is the mysterious room. "Yes," he explains, "for years a woman healer and medium lived there, and people came from all over Georgia to consult her. But she had recently taken in a veteran from the Afghan war, and the kolkhos to which the land belonged had evicted her. - She was now living somewhere in Tbilisi..."
A power spot, if I ever saw one. We inspected the interior. The bare walls were hung with naive drawings and religious contemporary "paintings." A copy of Raffael's Sistine Madonna above the altar which was piled with bottles, food items, cans, and a carton of American cigarettes... the offerings of grateful pilgrims....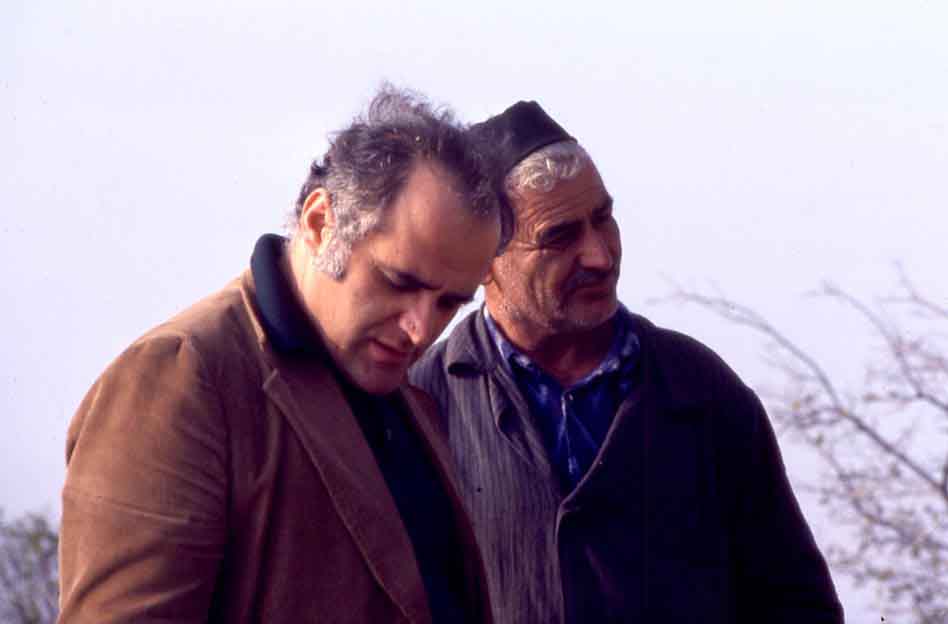 Merab and the caretaker...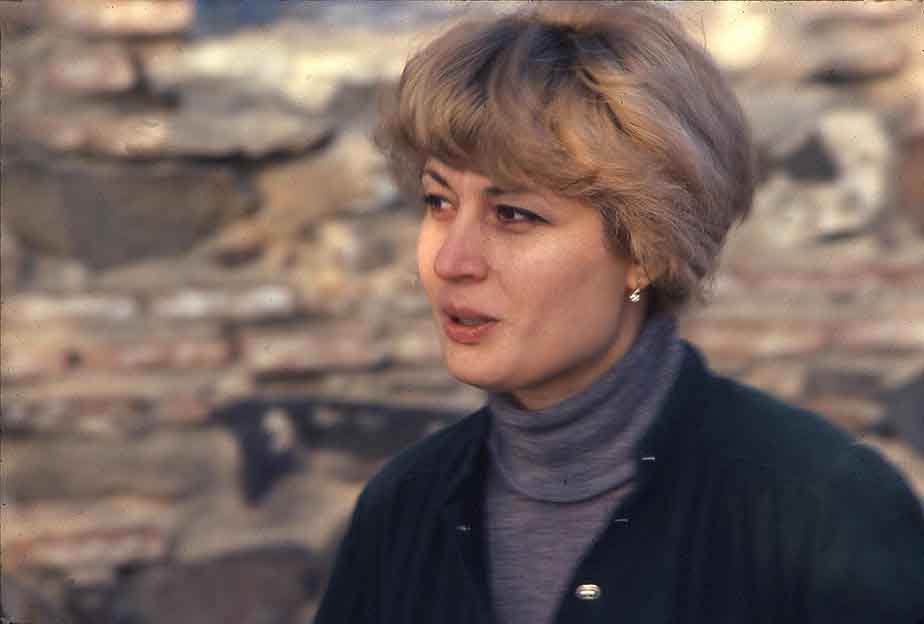 ...and Sophiko in the soft evening light.
And then a happening took place, a group of pilgrims from Kakheti arrived led by a shrewd old witch. They circled the church three times and then unpacked kebabs, wine, and bread loaves to have their supper.

Merab was the driver and Cornelius too young to drink the clear lightening - I was the only other man who had to finish the two glasses offered to the foreign guests....